Southern California Schutzhund Club (SCSC) is one of the first Schutzhund clubs in Southern California. We feel fortunate to have a vast amount of training knowledge within our membership. Our club members have years of experience in high-level training in Schutzhund competition and other sports venues. We are a unique club in that our membership is very self directed in our training. We do not teach Schutzhund training or basic obedience but practice Schutzhund and share a variety of dog training techniques, related sport skills and styles depending on the individual dogs and trainers and goals for that training session. Appropriate communication between dog and handler is critical to the learning process. Most importantly our club and membership prioritize safety and responsible dog ownership. This information packet will give you an idea of what is expected of guests and prospective new membership and what you can expect from us.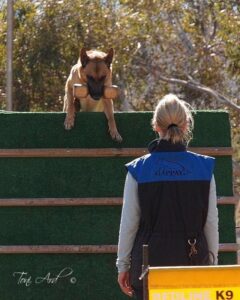 You may consider your first visit to SCSC without your dog. This allows for concentrated observation and time to familiarize yourself with the standing rules and to ask questions.
Please review our Standing Rules, which are available electronically under the RULES page or in our club training book. These guidelines outline the structure and expectations for everyone in attendance at our training field. If you have any questions about these rules, please ask any club member. SCSC encourages any individual interested in our training sessions to observe free of charge. All guests and prospective members are required to sign in our guest book and complete and sign a liability waiver.
Since it is a privilege to have the use of the training location, we are always respectful of the ground and surrounding areas. Please always clean up after your dog and dispose of any trash or pet waste in the dumpsters only. Please also restrict your dog's potty area to the far side of the parking lot, away from the field. We don't want dogs to eliminate on or near the training field.
SCSC's regular training nights are Tuesdays and Thursday from approximately 7:00pm to 11:00pm. Occasionally our field is unavailable or in use by the POA so please verify our schedule before showing up for training. Guests may be directed to a particular night based on field availability. Protection work is subject to the availability of the helper. Please confer with the TD/TC about obedience and/or protection on the particular night you visit SCSC.
Please review our Guest policies prior to visiting the club